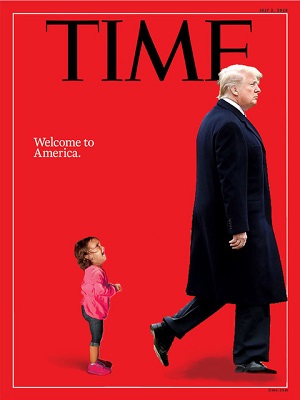 Jun 20, 2018. Indivisible Monroe on the White House border policy.
Members of Indivisible Monroe Township, NJ strongly condemn the harsh immigration policy initiatives undertaken by the White House, ICE, Departments of Homeland Security and Justice, including aggressive searches, arrests and deportations of harmless long term US residents, the recent forcible detention and separation of babies, toddlers and older children from their families and caretakers, and the excessive Federal resources pouring into the United States southern border.
The only "zero tolerance policy" – which remains alive and well – to be implemented that will stand the tests of merit, morality and history is one forbidding craven and unwarranted actions such as these.
While we appreciate the late made decision to rescind the contemptible separation of families, we await news of the timeline for family re-unions, and information about the welfare and whereabouts of unaccompanied minors.
By all means: enforce prioritization of suspected criminals – gang members, human, gun and drug traffickers.
By all means: assess the qualifications of newcomers and immigrant aspirants.
By all means: demand congress do its job and produce constructive and comprehensive bi-partisan immigration strategy.
But igniting, rather than mitigating, a humanitarian crisis ensnaring thousands of innocents is no requisite of any law in this country.
Using children and parents as pawns, inducing their suffering as leverage to "purchase" a border wall, to promulgate a flawed and invalid interpretation of immigration policy that caters to the basest of nationalistic impulses is a heinous distortion of United States law and values.
These appalling and shocking tactics may serve to satisfy political machinations and needs, and a hunger to dominate and cow political counterparts on all sides.
However, in the end these are cynical and damaging reflections of the American people.
The shame and disgrace that is still unfolding in the south can only yield terrifying echoes of the past and will certainly leave a deeply felt and long lasting black mark against us all.
Ripping families apart, causing undue hardships, under the deceptive guise of law must be verboten and anathema to all Americans lest our culture and behavior become further degraded, and our humanity and integrity become minor and weakened attributes.
We call upon congress, and particularly all NJ representatives at all levels of government, regardless of political affiliation or inclination, to stand up and in one body coerce immediate relief of this situation and a humane and appropriate interpretation and amendment of national immigration laws.
We join other groups nation wide in demanding the White House, and its arms, immediately cease and desist in this deviant path: Return humanity and intelligence to the business of government.
Jun 13, 2018. New Jersey Indivisible groups concerned about hazardous waste – Sentinel.
Jun 1, 2018.  Two wins on issues Indivisible Monroe has advocated: The Out Of Network Surprise Medical Bills legislation signed into law and Gov. Murphy vetoed the Chemours/DuPont bill (see the Indivisibles' letter to the Governor for details).
Feb 26, 2018. East Brunswick vigil participants vow to continue gun violence dialogue. Irene and Les Linet participate in a vigil organized by students and parents from E.B.H.S. in memory of the 17 innocent lives lost in Parkland Florida. Seniors vowed to register to vote, and help elect those who agree to fight for common sense gun reform.   – MyCentralJersey.com, part of the USA Today Network.
Aug 19, 2017.  Monroe residents rally in solidarity – MyCentralJersey.com, part of the USA Today Network.
Jul 4, 2017.  Monroe chapter of grassroots organization gives senior citizens chance to speak up – MyCentralJersey.com, part of the USA Today Network.
Jun 23, 2017.  Group Gathers to Discuss and Protest – Sentinel.