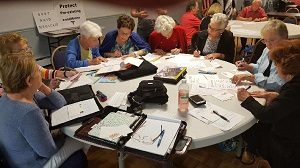 Congratulations Activists!
They said it couldn't be done. But we proved them wrong. We did indeed make a difference. Congratulations to those who made targeted calls to get out the vote (a total of 43,035) over the past two weeks and elected Democrat Doug Jones to the United States Senate. (special thanks to Catherine Hunt who organized the phone bank).
Our grassroots activism is now being called a movement. An important one. Over 6,000 Indivisible members and dozens of other progressive groups made history yesterday. Let's keep up the momentum.
---
Letter to the Editor:
We the members of Indivisible of Monroe Township, are alarmed and disheartened by the tax cut proposed by the House of Representatives. This legislation is regressive and detrimental to the interests of many Americans, especially in high cost of living states like New Jersey. In the long term, the proposal will benefit the upper segment of the population – corporations and their shareholders and other wealthy individuals.
It will immediately have a negative impact on a majority of New Jersey citizens and our state's ability to deal constructively with major issues like high tax rates, jobs, affordable housing and quality of life for middle and low income residents, seniors, and the disabled. These groups do not benefit from complicated tax loopholes and off-shore tax evasion havens.
We urge Congress to vote no on this cruel and hurtful bill and urge all New Jersey residents to join us in opposition by contacting their member of Congress.
Irene Linet, Monroe Township
Rona Malkin, Monroe Township
Co-Chairs, Indivisible of Monroe Township
---
Aug 19, 2017.  Monroe residents rally in solidarity – MyCentralJersey.com, part of the USA Today Network.
Jul 4, 2017.  Monroe chapter of grassroots organization gives senior citizens chance to speak up – MyCentralJersey.com, part of the USA Today Network.
Jun 23, 2017.  Group Gathers to Discuss and Protest – Sentinel.