Across the political spectrum, Democrats, Independents, and Never Trump Republicans are resisting Trump's destructive domestic and foreign policy, disregard for the constitution and the rule of law, likely corruption, and obvious incompetence.
In contrast, the republican Congress has not held the Trump administration accountable.  Electing a majority-democratic Congress is the most realistic path to have a constitutional check on the presidential power.
NJ will likely contribute to the Blue Wave.  There are currently 5 congressional seats held by the GOP.
District 2. 

Likely Dem.

  Frank LoBiondo is retiring.  Jeff Van Drew is the Democrat running for this open seat.  He has a 55-32% lead (Stockton University, Sep 12-18)
District 3.  

Leans Dem.

  This is Tom MacArthur's seat.  MacArthur was the only representative from NJ to vote for the Tax Cuts and Jobs Act of 2017, which raised taxes on many NJ taxpayers.  Tom MacArthur also revived the Obamacare repeal bill when it was declared dead in Congress.  Andy Kim is the Democratic challenger with a 49-39% lead (NY Times/Siena, Sep 22-26)
District 4.  

Likely GOP.

  Chris Smith holds some of the most extreme views against women and LGBT rights.  Turnout is the key to flipping this district.  We are actively working with the campaign of the Democrat Josh Welle.
District 7.  

Toss Up

. This is Leonard Lance's seat.  Tom Malinowski is the Democratic challenger currently in the lead 46-43% (Monmouth Sep 13-17). The district voted Democrat in the 2016 presidential elections.
District 11.  

Toss Up

.  Rodney Frelinghuysen's is retiring.  Mikie Sherrill is the Democrat running for this open seat.  She is in the lead 48-44%, according to the most recent poll (Monmouth Oct 3-7).
In the Senate, the Democrats are defending more seats than Republicans. Senator Bob Menendez has been an advocate and strong supporter of the progressive values that we hold dear. Therefore, we strongly support his re-election campaign.
---
You really can make a difference in this election:
Make sure you are registered to vote.  Vote Save America is a step-by-step guide to help make sure you, your friends, and your family have all the info they need to actually vote on November 6.  You can also check your voter registration online with the NJ Division of Elections.
Vote by mail.  The campaigns would know that you voted and could focus on those who have not.  Applications are available for Monmouth County (English, Spanish) and Ocean Country.  The Middlesex County is sending vote-by-mail applications to all voters.
Install a campaign lawn sign, if your district is in play.
Donate to a candidate of your choice.  Even with small donations, the campaigns can convince undecided voters and counter the massive GOP campaign budgets fueled by their super-donors and PACs.
Volunteer to reach potential voters.  A number of voters do not vote in mid-term elections.  If we could match the presidential election voter participation at 80%, we can flip all districts.  You can reach these voters in 3 ways: send letters, participate in phone-banking, and/or canvas a neighborhood.
Vote and bring your friends and family to the polls.
---
With the upcoming crucial midterm election in November, it is more important than ever to Get Out The Vote.  Volunteers are needed to visit nursing homes and assisted living communities to help residents with Absentee Ballots and Voter Registration forms.  If you can volunteer, please contact us.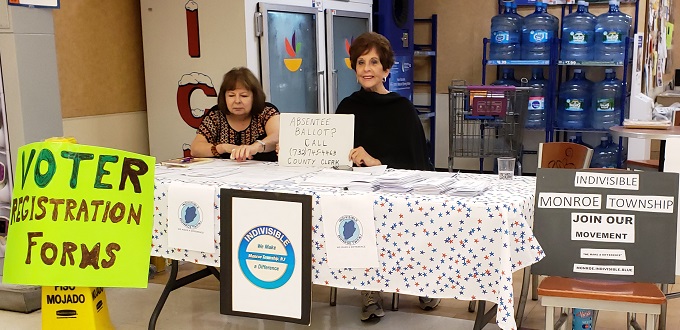 Indivisible volunteers at Stop & Shop on August 11, handing out voter application forms and absentee ballot forms for Middlesex County residents.