School Safety and Common Sense Gun Reform at Monroe Senior Center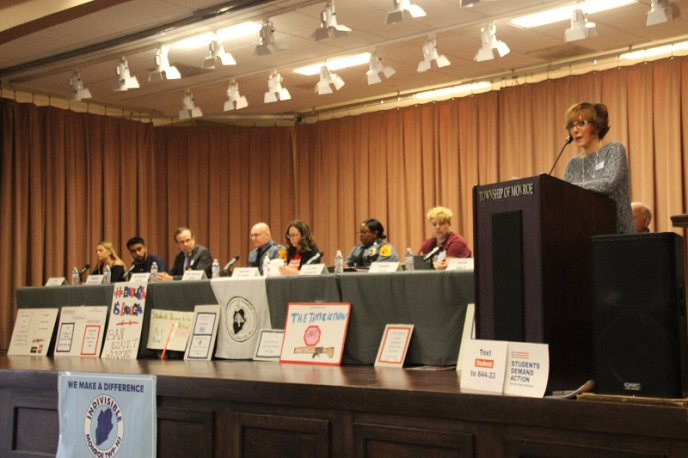 Co-chair of Monroe Township Indivisible, Irene Linet, introducing Gun Reform Forum.  The panel included Police Chief Lloyd, H.S  Superintendent Michael Kodak, Rachel Outram from Moms Demand Action, Police Lieutenant Lisa Robinson, and Students from Monroe Township High School.
Please see Senator Corey Booker's Letter to Indivisible Monroe (PDF)
Assemblyman Wayne DeAngelo's Message to 4/23/18 Indivisible Meeting on Gun Control: Thank you everyone who took the time out of their busy schedules to come out tonight. Your advocacy for safer communities and meaningful gun control reforms is key in making Monroe and the State of New Jersey a better place to live, work, and raise a family. Throughout the country, millions of people are speaking out in order to secure a more promising future for themselves, their loved ones, and their neighbors. Tonight is an example of people coming together to take action. By working together as fellow community members, leaders, and concerned citizens, we can tackle seemingly large problems with common sense answers. Thank you once again for all of your work and I look forward to continuing working with all of you in the future.