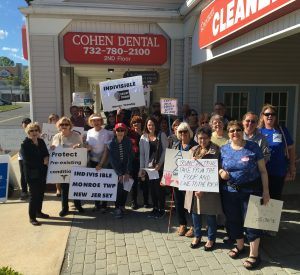 Protect DREAMers
We've just learned that the Federation for American Immigration Reform (FAIR)—an extremist, anti-immigrant and eugenicist organization designated as a hate group by the Southern Poverty Law Center—are actively lobbying senators to only support reforms that close the border, increase deportations, and end legal immigration. They are loud and working with their similarly hateful friends to undercut any possibility of passing sensible legislation.
Senators are expected to begin voting on various immigration amendments today. Right now, Donald Trump and Stephen Miller's racist, xenophobic framework, supported by groups like FAIR, is driving the conversation.
We cannot allow voices of hate to derail the discussion around protecting immigrant youth. We need to be loud and relentless to have any chance of passing a bill that does more good than harm. Please, make a call today and make sure your senators hear from voices of reason before they cast any votes.
Call Senator Robert Menendez at (202) 224-4744 and Senator Cory A. Booker at (202) 224-3224. Urge them to only support narrow, bipartisan legislation that focuses on protections for immigrant youth.
Hi, my name is ________ from zip code 08831 in monroe township. I am calling to urge the senator to only support a narrow bill that includes the full Dream Act and limited, sensible border security with accountability and oversight protections. This isn't the time for a massive overhaul of immigration policy. The crisis we need to solve today is a legislative fix for DREAMers. Please reject attempts to barter one group of people for another. Thank you for your time.
---
The Mueller Investigation
Our priority is to keep the Mueller investigation alive. We must support S.1735 (Graham and Booker) and S.1741 (Coons and Tillis) as well as H.R. 3771 in the House. Call Bonnie Watson Coleman 202-225-5801 and ask for her support for both. Also call Senators Menendez 202-224-4744, and Booker 202-224-3224 and thank them for their support.
---