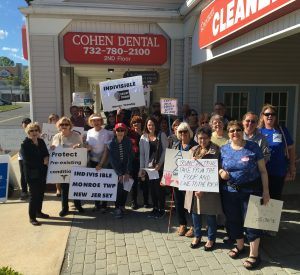 Gun Safety Reform
Last month, bullets again ripped through a school, killing innocent students and teachers who had every right to expect that they would be safe inside this place of learning. And only days ago, another school shooting occurred in Maryland. In 2017, 2,239 people were wounded or killed in mass shootings, and as most people know by now, this latest atrocity was the 30th mass shooting in 2018.
Indivisible of Monroe Township members are horrified by this continued assault on our children. We are offering not only "thoughts and prayers." We are asking for action NOW by advocating for the passage of the gun safety bills currently before the New Jersey State legislature:
A1217: Extreme Risk Protection Order
A2757: Background check with every private gun sale
A2758: Codifying regulations on handgun permits
A2759: Ban armor piercing ammunition
A2761: Reducing ammunition magazine capacity from 15-10
Call your District 14 NJ Assembly Members – (Mercer and Middlesex) Cranbury, East Windsor, Hamilton (Mercer), Hightstown, Jamesburg, Monroe (Middlesex), Plainsboro, Robbinsville, Spotswood:
Senator Linda R. Greenstein – Democrat (609) 395-9911
Assemblyman Daniel R. Benson – Democrat (609) 631-0198
Assemblyman Wayne P. DeAngelo – Democrat (609) 631-7501
Members of Congress must also be asked to prevent the passage of HR 38, the Concealed Carry Reciprocity Act, passed by the House and currently in committee in the Senate
We urge our members and all New Jersey citizens to contact state and federal legislators to send the message that we will not stand for the murder of our children. Start with these New Jersey House Members who have voted to loosen gun restrictions: Rodney Frelinghuysen, NJ 11; Leonard Lance, NJ 7; Frank LoBiondo, NJ 2nd; Tom Macarthur, NJ 3rd; and Chris Smith, NJ 4.
By working together we can effect change!